The official spokesman for the Ministry of Human Resources and Social Development, Saad Al Hammad, announced that on Thursday, Safar 16, 1443 AH, corresponding to September 23, 2021; A holiday on the occasion of the National Day, for all sectors (public, private, and non-profit).
The ministry's decision is based on Article (24) of the Executive Regulations of the Labor Law, and in accordance with Paragraph (B) of Article (127) and Article (128) of the Executive Regulations for Human Resources.
On September 23 of each year, the Kingdom celebrates the anniversary of the country's unification, as the head of the General Entertainment Authority recently launched the identity of the 91st National Day, entitled "It is ours home", within the framework of unifying the celebrations of all government and private agencies inside and outside the Kingdom, where many events and events are held on this occasion. Entertainment and variety.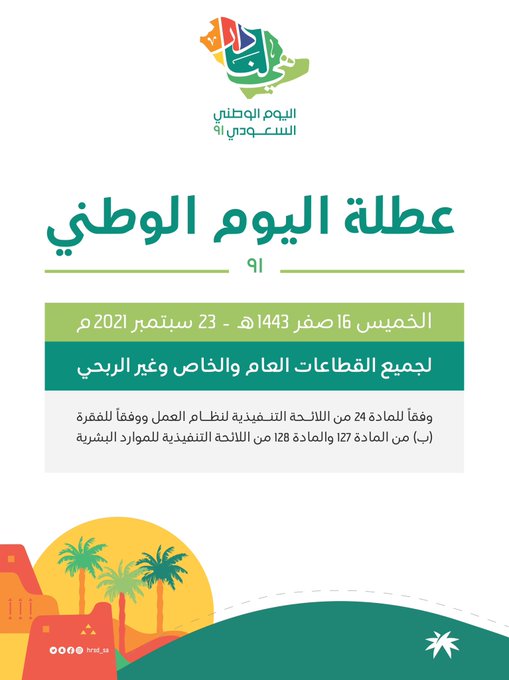 Add us on Snapchat
For the latest updates, news, and events of Saudi Arabia you can join our WhatsApp group or Telegram
Follow Us On Google News
Please share this article with your fellows and subscribe to our website by clicking on the Bell Icon (Left Bottom of this Page) to receive notifications for every Trending article. We hope that your queries are resolved. If not, feel free to message us on our FB Page.
We are here to reply to your questions with a legal basis to assist you in all possible ways.