For the latest updates, news, and events of Saudi Arabia you can join our WhatsApp group
Free Umrah Packages Give Away
Subscribe to our Youtube Channel for Free Umrah Packages
Jeddawi
The food of Saudi Arabia is delicious and tempting. Those who eat Saudi Arabian cuisine once, always have a desire to eat it again especially the national dish of Saudi Arabia. That is the reason Saudi Arabian traditional food recipes are so much in demand.
So, if you are in Saudi Arabia, mark the following popular and amazing Saudi Arabian cuisines in the things to do.
Mandi / مندي – the tastiest Saudi Arabian food

Mandi / مندي – the tastiest Saudi Arabian food
Kabsa كبسه – the national dish of Saudi Arabia
Ruz Bukhari / رز البخاري – the most eaten Saudi food
Mutabbaq / مطبّق – well known Saudi Arabia food
Ferek
Saleek / سليق
Jereesh / جريش
Arekah
Margoog / مرقوق
Mofatah
Maqluba / مقلوبة
Shakshouka / شكشوكة – a famous Saudi cuisine
Mahela
Mandi is the most famous Saudi Arabian food dish that is too tasty to be missed. Mandi is a very common dish that is served on almost every happy occasion be it a marriage or celebration in office. It is definitely a must-try dish!
If you are looking for a guide to prepare this tasty Saudi Arabia food dish at home, here is a guide for you to make Mandi at home. Although the Saudi Arabian food recipe of Mandi is comprehensive, it is better to taste it once from a professional restaurant such as Redan.
Kabsa كبسه – the national dish of Saudi Arabia
Kabsa is another Saudi Arabian traditional food dish that is made out of rice. This dish is made by the combination of rice, meat, vegetable, and spices! Sounds great nah? It tastes even greater! We have already published the Saudi Arabian food recipe to make Kabsah.
Many people are unaware of the fact that Saudi Kabsah is the national dish of Saudi Arabia. Well, only after eating it you realize why it has been adopted as the national food of Saudi Arabia.
Ruz Bukhari / رز البخاري – the most eaten Saudi food
Bukhari Rice is also commonly known as Ruz al Bukhari has the Afghani origin. It is such a common, tasty and traditional food that it can easily be found in any Saudi restaurant! Undoubtedly, it is the most eaten Saudi Arabian cuisine.
Some people confuse it with the national dish of Saudi Arabia, however, there is a huge difference between the two.
This rice dish is basically served with the roast chicken. Yet it is equally amazing if served with the spicy tomato sauce, chopped fresh salad and assembled with fried potato cubes. Grab a plate of Roz Bukhari whenever you visit SA! Soon, we shall publish the Saudi Arabian food recipe to make Roz Bukhari.
Mutabbaq / مطبّق – well known Saudi Arabia food
Mutabbaq is another traditional food of Saudi Arabia which is the favorite for Saudis! This Saudi Arabian food has not only gained popularity among the south of Saudi Arabia, yet it is now being served with great zeal and zest in Yemen, India, Indonesia, Malaysia, Singapore, Brunei, and Thailand.
Mutabbaq is a dish, rich in taste and ingredients. It is made through combinations of the Kabsa as well as Jereesh, and Gursan. It can be taken as an appetizer, side meals or even snacks. And believe me choosing it as an option is great!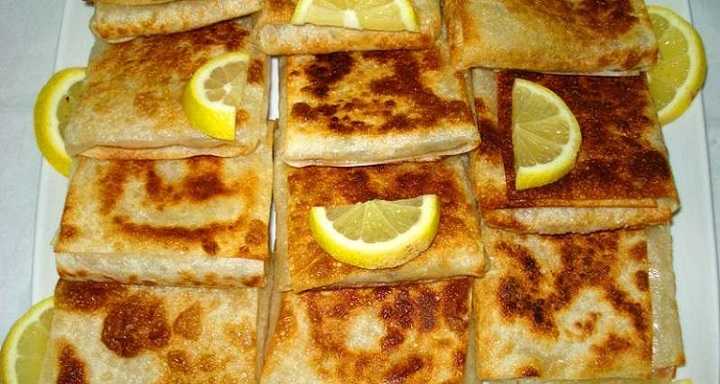 Ferek
A plate filled with Ferek in winters is all that you would want once you try it! It is indeed a perfect Saudi Arabian Cuisine winter treat! It is made of brown onion paste added with spices and sweet. Due to the addition of spices, it holds a great taste and it is not that much sweet like Hainini.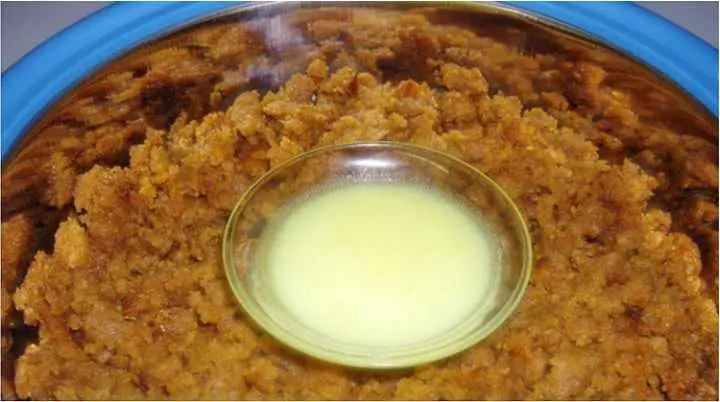 Saleek / سليق
Saleek is another specialty of the Kingdom of Saudi Arabia. It is a Saudi Arabia food dish one can never resist and can never get bored off!
This Saudi Arabian Cuisine holds rich ingredients like whole chicken, ginger, garlic as well as salt, pepper, red chili, paprika and cumin, and coriander powder. If you haven't tried Saleek, you definitely not know what great and tasty food actually tastes and looks like!
Jereesh / جريش
Jereesh is also pronounced as Harees. This Saudi Arabia food dish is one of the best dishes of Saudi Arabia that is the favorite dish of most people in Saudi Arabia.
The rich in taste Saudi Arabian Cuisine is prepared with a combination of boiled as well as cracked or coarsely-ground wheat that is finely mixed with meat.
The Arabian countries of the Persian Gulf consume it heavily in the month of Ramadan. There are varieties of cooking methods for Harees which are equally tasty. Try to serve the Harees which is beautifully decorated with parsle.
Arekah
Arekah is a common dish among Saudis which is widely consumed in Saudi breakfast. It is a healthy and delicious Saudi Arabian food item that was prepared to strengthen the people during difficult days of life. Now the dish has become one of the most favorite dishes of Saudi Arabia.
This Saudi Arabian Cuisine is very much in demand among the people in the breakfast meal. The dish has originated from southern Arabia yet is now consumed all over the kingdom. Not only its name is interesting, yet it would be a perfect treat to have a platter of Arekah!
Margoog / مرقوق
Margoog is another tasty and famous Saudi Arabia food. The dish has a texture of soup that contains meat complimented with vegetables and a certain type of flour paste.
The flour used is the one made out of wheat grains. This Saudi Arabian Cuisine is extremely healthy as it has a significant amount of dietary fibers and vitamins! It is indeed a healthy delight! It is a traditional food item that has been originated from the Najd region of Saudi Arabia.
Mofatah
Mofatah is one of the tastiest and most favorite dishes around Saudi Arabia. The dish is made out of a sheep. As it is difficult to be made at home, this Saudi Arabian Cuisine is served on special occasions and events with great pride!
As the dish is in great demand, now some of the restaurants do offer the service of cooking this dish for the people on a provision of sheep by the one who orders its cooking.
Maqluba / مقلوبة
Maqluba has now turned out to be one of the most famous Saudi Arabiaى foods and places around. The dish has gained popularity in countries like Syria, Palestine, and Lebanon. The dish is a traditional dish originated from Levant.
This Saudi Arabian Cuisine is made out of a combination of meat and rice complemented with fried vegetables beautifully places in a pot. The meat of chicken and lamb is used for its preparation while it is served with tomatoes, potatoes, cauliflower, and eggplant.
Shakshouka / شكشوكة – a famous Saudi cuisine
Shakshouka or alternatively known as shakshuka is another traditional and famous Saudi Arabian food dish. The basic ingredient of the dish is an egg. The eggs are poached in the sauce of tomatoes, chili peppers and onions to give it a great and new taste.
Also to add more flavors artichoke hearts, potatoes, and broad beans are added to the dish. The dish is quite famous among the Middle Eastern countries and the Maghreb.
Mahela
Quiet heard of Mahela in Saudi Arabia? Well, Mahela is one of the top famous Saudi Arabian food dishes. This dish has now gained popularity in Syria, Palestine, and Lebanon.
The dish is popularly served at home parties, major events, and even weddings! It would take an hour to make out a delicious platter of Mahela. Make sure to add spices and Mahela is incomplete without spices!
What's your reaction about this news
🥰𝙒𝙚 𝙝𝙤𝙥𝙚 𝙩𝙝𝙖𝙩 𝙮𝙤𝙪 𝙡𝙞𝙠𝙚𝙙 𝙩𝙝𝙞𝙨 𝘼𝙧𝙩𝙞𝙘𝙡𝙚. 𝙋𝙡𝙚𝙖𝙨𝙚 𝙨𝙝𝙖𝙧𝙚 𝙞𝙩 𝙬𝙞𝙩𝙝 𝙮𝙤𝙪𝙧 𝙁𝙧𝙞𝙚𝙣𝙙𝙨 𝙖𝙣𝙙 𝙨𝙪𝙗𝙨𝙘𝙧𝙞𝙗𝙚 𝙩𝙤 𝙤𝙪𝙧 𝙬𝙚𝙗𝙨𝙞𝙩𝙚 𝙗𝙮 𝙘𝙡𝙞𝙘𝙠𝙞𝙣𝙜 𝙤𝙣 𝙩𝙝𝙚 𝘽𝙚𝙡𝙡 𝙄𝙘𝙤𝙣 (𝙇𝙚𝙛𝙩 𝘽𝙤𝙩𝙩𝙤𝙢 𝙤𝙛 𝙩𝙝𝙞𝙨 𝙋𝙖𝙜𝙚) 𝙩𝙤 𝙧𝙚𝙘𝙚𝙞𝙫𝙚 𝙣𝙤𝙩𝙞𝙛𝙞𝙘𝙖𝙩𝙞𝙤𝙣𝙨 𝙛𝙤𝙧 𝙚𝙫𝙚𝙧𝙮 𝙏𝙧𝙚𝙣𝙙𝙞𝙣𝙜 𝙖𝙧𝙩𝙞𝙘𝙡𝙚.🥰
Add us on Snapchat
Follow Us On Google News
For the latest updates, news, and events of Saudi Arabia you can join our WhatsApp group or Telegram
Find Jobs Online in any region of Saudi Arabia on KSA Job Site